Julia "Judy" Ann Bowker
Courtesy photo
Julia "Judy" Ann Bowker, 76, passed away Thursday, August 17 at her home in Rock Springs. She was a life-long resident of Wyoming. She died following a lengthy illness.
She was born September 27, 1946 in Lander, the daughter of John Thomas Kiernan and Okal Gould Kiernan.
Judy attended schools in Rock Springs.
She married the love of her life Wilfred Bowker on July 20, 1979 in Rock Springs and he preceded her in death September 9, 2007.
Judy worked for New Grand Café for 20 plus years and retired in 2005 as a waitress.
She was a member of the Holy Spirit Catholic Community.
Judy enjoyed spending time with family, dancing, bingo, bowling, board games, and her beloved dogs Pita and Baby Girl. She was an avid Denver Broncos fan and loved older country music.
Survivors include two sons, Brian Williams and wife Alysha, and Jack Bowker, all of Rock Springs; two daughters, Wanda Petty and husband Ken Jr., and Annette Bowker, all of Rock Springs; six brothers, Tom Kiernan and wife Connie of Minnesota, James Kiernan and wife Mary Jo of Wyoming, William Con "WC" Kiernan of North Carolina, Mike Kiernan of Wyoming, Vic Davison and wife Catherine of Oklahoma, and Dale Davison of Wyoming; three sisters, Ginny Davison of Texas, Marie Williams and husband Dave of Wyoming, and Diane Smith of Wyoming; one brother-in-law, Edward "Ed" Bowker Sr. of Rock Springs; nine grandchildren, Marissa Petty, Kenneth "Trey" Petty III, Keaton Bowker, Irelyn Chatterley-Bowker, Rhaidyn Williams, Rhiellyn Williams, Daughtrhy Willliams, Kelsey Kiernan, and Donny Kiernan; several cousins; several nieces and nephews; and several great grandchildren.
She was preceded in death by her husband Wil Bowker; parents John Kiernan and Okal "Kate" Davison; father and mother-in-law Wilfred and Annie Bowker; one son, Vance "Pat" Kiernan; one daughter, Wilanna Bowker who died in infancy; two brothers, David Davison and John Davison who died in infancy; one brother-in-law, John Bowker; two nephews, Terry Kiernan and Edward "Eddie" Bowker Jr .; and one sister-in-law, Marlene Bowker.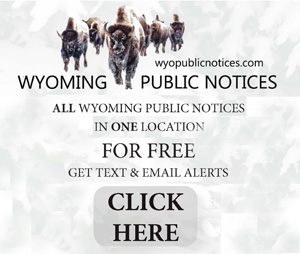 The family respectfully requests donations be made in Judy's name to Hospice of Sweetwater County, 333 Broadway Street Suite #220, Rock Springs, Wyoming 82901 or Young at Heart Senior Center, 2400 Reagan Avenue, Rock Springs, Wyoming 82901.
A rosary will be recited at 10:30 a.m. Monday, August 28 at Our Lady of Sorrows Catholic Church, 116 Broadway Street in Rock Springs. A mass of Christian burial will be conducted at 11 a.m. Monday, August 28 at the church. Graveside services and interment will be in the Rock Springs Municipal Cemetery.