Barrasso, Lummis host talk about upcoming farm bill
CASPER — U.S. Senator John Boozman sat opposite a group of more than 20 Wyoming farmers, ranchers, government officials and nonprofit leaders in a cold conference room on the third floor of Casper's Thyra Thomson State Office Building.
Addressing his audience in a quiet, unhurried voice, the Arkansas congressman told them he was there to listen — and to ensure their concerns wouldn't fall on deaf ears in D.C.
"I believe very strongly that the answer to our problems needs to come from the bottom," Boozman said.
The Friday roundtable discussion was part of a national effort by lawmakers to gather public input as they work on the latest iteration of an enormous federal package known as the "farm bill." The legislation is renewed every five years and powers the country's biggest safety net for agricultural producers, as well as some of the most prominent hunger relief, conservation and rural development programs.
Boozman was invited to host listening sessions in Wyoming by U.S. Sens. Cynthia Lummis and John Barrasso. As a ranking member of the Committee on Agriculture, Nutrition, and Forestry — the group of legislators tasked with putting together the initial drafts of the farm bill — Boozman plays a major role in shaping the legislation.
Most of the funding provided by the farm bill is expected to go toward nutrition programs, including food stamps.
But it's also likely to funnel billions toward crop insurance and subsidies for commodities.
While the farm bill has broad support from both sides of the political aisle, Wyoming still may struggle to see its interests reflected in the legislation. Larger agricultural states like California, Iowa and Illinois, tend to hold much more sway.
"The farm bills really aren't about Democrats and Republicans," Boozman said during the roundtable. "It's about areas."
Regardless of background, most Wyoming leaders who spoke Friday were emphatic that farm bill programs were needed now more than ever. They want more funding, and they want fewer bureaucratic obstacles in the way of accessing it.
Speakers asked for increased support for initiatives including the following: farm loan programs; crop insurance; rural infrastructure development, including roads, internet and workforce housing; agriculture and animal health research and hunger relief programs.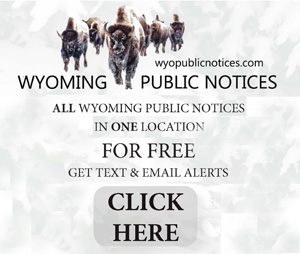 Agriculture is Wyoming's third-biggest industry, behind mining and tourism. As of 2022, the sector brought in more than $2 billion annually, according to the USDA's website.
The state makes most of that money from livestock like cattle and sheep, but it's also known for producing crops including hay, beans, grains and sugar beets.
The coronavirus pandemic dealt a major blow to Wyoming agriculturists. In late 2020 — amid disrupted supply chains and stunted consumer demand — prices for livestock and produce in the U.S hit a roughly 10-year low, according to a July report published by Wyoming economic analysis division.
While the sector has bounced back considerably from the doldrums of 2020, inflation and supply chain issues continue to beleaguer farmers and ranchers. Agriculture producers have also been hit hard by unpredictable weather events like this year's unseasonably icy and snowy winter, which Gov. Mark Gordon in March declared a disaster.
In other words, farmers and ranchers are still banking on farm bill programs to keep them afloat.
But Congress will have to give those programs a significant boost before they make a meaningful difference, Jim Magagna, executive vice president of the Wyoming Stock Growers Association, told Boozman.
"We're trying to get new young people into these operations," he said. "A couple-hundred-thousand-dollar loan or assistance program just doesn't even get them started today."
Other USDA programs backed by the farm bill, like disaster relief money, are simply too difficult to access, he added.
"The cumbersome process of getting to the point that you can get disaster assistance was very noted, and something that I believe needs to be avoided in the future," Magagna said. Boozman said the Agriculture Committee is looking at ways to streamline the funding process.
"It takes too long and is too complex, and that's not the fault of USDA," he said. "We're working hard to try and figure out how we can reduce the bureaucracy."
Rep. Cheri Steinmetz, R-Lingle, suggested that more programs should follow the flexible spending model that characterized much of the money provided to states and local governments during the pandemic.
"We think an idea might be to look at block grant money to the states that had let us distribute that where we need it, rather than a one-size-fits-all from Washington," she said.
The previous iteration of the farm bill, which was adopted in 2018, expires at the end of September. Only time will tell if Congress will manage to push through a replacement in time.
"I'd like to get it done by the time it expires," said Boozman, though he noted it's "not unusual" to miss that deadline.
"Most of our folks will have their crop planted this fall with no certainty as to whether the farm bill will be passed by then," Keith Kennedy, speaking on behalf of the Wyoming Wheat Commission, Wyoming Ag Business Association and the Association of Irrigation Districts, said during the meeting.
Even if lawmakers miss the deadline, funding for many of the farm bill's major programs, including SNAP, crop insurance and conservation, won't be affected.
It's still unclear what the next version of the bill will look like.
Politico in June reported that both conservative and liberal lawmakers are expected to target farm subsidies like crop insurance once the farm bill hits the floor. Eligibility requirements for food stamps will likely be another major point of debate, NPR reported on July 11.
No matter what happens, Wyoming farmers and ranchers will keep hoping for some semblance of stability to hang their hats on.