Pride events welcome everyone, draw crowds
Star photo by Hannah Romero
Rainbow flags waved freely throughout Sweetwater County the last two weekends, with "Pride in the Park" hosted by Green River PFLAG last Saturday in Evers Park and the first Rock Springs Pride Fest hosted June 10 in Bunning Park.
Both events drew in large crowds of people to participate in free activities, enjoy entertainment, and check out vendors and community organizations. The Rock Springs Pride Fest was estimated to have brought in close to 1,000 participants according to Chad Banks, one of the organizers for the event. Now in its second year, "Pride in the Park" was at least three times bigger than last year's event, according to PFLAG members.
"It was really wonderful to hear people say 'Oh I came last year and it was so much fun' and come back again," Becky Iwen, a PFLAG Green River board member, said at the event. "This year we have lots of vendors, we're doing more formal activities like yoga, and we're really just trying to make it more of a fully community-based event."
Iwen was encouraged by the positive response of the community, from those who showed up to those who were willing to share posters advertising the event.
"When approached with information, people seem very positive," she said.
At the same time, there were elements of resistance.
"I know that there are a lot of people that are not supportive overall of the LGBTQ+ community, and we did see that reflected," Iwen said. "There were some white nationalist stickers that had been put up."
One of the PFLAG members made sure all the stickers put up at the event were taken down, and Iwen noted that whoever put them up wasn't there in person. She also added that she has found that people in Wyoming tend to understand the need to be accepting and to support the freedoms of others.
"I think that Wyoming is a wonderful place because there aren't a lot of us and we all really want to be here, and that mentality of individualism and freedom, I think, is really important to people in Wyoming, and that includes the freedom to also celebrate the things that you love and how you want to celebrate," Iwen said.
When it comes to the importance of hosting events to recognize Pride month and the LGBTQ+ community, Iwen said a major factor is promoting visibility.
"Even if someone is not out yet personally, they can see that there are people that are supportive, because sometimes what we really hear are very negative voices that surround us," she said. "If we can kind of permeate that circle of negativity, and just say 'We're here, and we accept you for who you are, and you don't have to be anything different to be a part of our community,' I think that message is really important."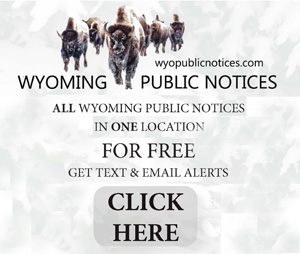 Combating negative messages and sharing messages of love, kindness and acceptance is especially crucial for helping young people, according to Iwen. Sharing these messages can have even more impact when it's done in person, as opposed to resources that are only digital. Instead of just having voices on the internet, it helps "to be able to look at a young person and say 'you're going to be ok,'" Iwen said.
When it comes to reaching young people, Iwen pointed out that "Pride in the Park" was a fully family-friendly event.
"When you look around today's events, you don't see anyone doing anything that is not 100% appropriate to do in a public setting," Iwen said. "These are the same people that we see in Walmart, these are the same people that we see at the Loaf 'N Jug getting gas. And this behavior, just existing in our own bodies, holding hands with the person we love, whether it's a heterosexual relationship, whether it's a gay relationship, a lesbian relationship, if you're just holding hands with your bestie and you're not in any sort of relationship except for great friends, that's a very appropriate behavior."
Iwen also recognized the problem of the sexualization of young people, and stressed that no child should be sexualized. She said that young people who are growing up should be given the opportunity to discover themselves and not be pressured in any direction.
"Pride in the Park" is also an event designed to embrace PFLAG's mission of being an organization that's not just for one group. In this spirit, Iwen was also happy that Rock Springs hosted a Pride event, since it's important for the whole community to continue to have more chances to "be welcoming of everyone."
"We are thrilled to see the impact this festival had on our community," Rock Springs Mayor Max Mickelson was quoted as saying in a press release. "Rock Springs First Pride Fest has showcased our continued commitment to ensuring the constitutional rights of all people are protected. We will continue to work diligently to ensure that Rock Springs remains a city where everyone feels safe, respected, and celebrated."
"The event proved to be a resounding success, uniting people from all walks of life, promoting understanding, and creating a lasting legacy for future generations," the Rock Springs Pride press release said. "The overwhelming positive response from attendees and the broader community solidifies the festival's place as a significant annual event in Rock Springs."
PFLAG Green River also plans to continue "Pride in the Park," with President Karla Valencia anticipating it will just get bigger every year. Iwen also believes activities like the color party finale will become an annual tradition, and the event will continue to welcome the community.
Star photo by Hannah Romero
"This is the kind of event that I can be really proud to be a part of, because it is for everyone," Iwen said.