'Tis the season: Upcoming Christmas events
Star file photo
As the Christmas season gets into full swing in Green River and throughout Sweetwater County, the calendar is filling up with festive things to do. Here are some of the activities and events residents can participate in to celebrate the holidays.
Green River:
- Mayor's Tree Lighting: The Green River Urban Renewal/Main Street Agency's annual Mayor's Tree Lighting will take place Friday, Dec. 2 at 5:30 at the Clocktower in Downtown Green River. In addition to the lighting of the tree, the event will include s'mores, caroling, hot chocolate, and "a visitor from the North Pole!"
GHSC Christmas Craft Fair: Golden Hour Senior Center will host the annual craft fair Friday, Dec. 2 from 4 to 7 p.m. and Saturday, Dec. 3 from 9 a.m. to 4 p.m. There will be around 40 vendors present. Santa will be at the craft fair Saturday from 9 to 11 a.m. The craft fair will include raffles and hot meals will be available. There is a $1 admission fee. 
- "Elf" at the library: In addition to all the library's normal activities with festive themes, the Sweetwater County Library in Green River will be hosting a showing of the Christmas movie "Elf" Saturday, Dec. 3 at noon. Participants will be able to eat Buddy's famous maple, chocolate, sprinkle spaghetti and are invited to bring a blanket and pillows to get cozy for the movie. After the movie there will be a special visit from Santa. Elf is rated PG and has a runtime of one hour and 37 minutes.
- Arts Council Light Fest: The Green River Arts Council's inaugural Arts Fest will be hosted at the Riverside Nursery on Dec. 9 and 10 from 4 p.m. to 9 p.m. There will be lights, art sales, hot cocoa, and a chance to see Santa and Mrs. Claus. Admission is $3 per person or $10 a family.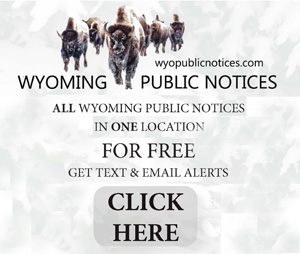 - Pony Express Christmas card ride: The Sweetwater County Pony Express will hold their 21st annual Christmas card ride on Dec. 10. The cards will be carried on horseback from the Green River Post Office to the Rock Springs Post Office. The riders will leave the Green River Post Office at 11 a.m. All cards must have the correct postage and be ready to mail. The cards will be placed in the mochila after they have been stamped with a special Pony Express Stamp. Cards will be accepted at the Green River Post Office no later than Friday, Dec. 9 at 5 p.m. 
- "Messiah" Choir: The Interfaith Community Choir will perform Handel's "Messiah" Dec. 11 at 7 p.m. at the Stake Center (120 Shoshone Avenue). 
- Living Nativity: The annual drive-through living nativity event will be presented at the Assembly of God Church on the corner of Bridger Drive and Hitching Post the evening of Dec. 17 from 6 - 9 p.m.
Gingerbread Competition: Green River Parks and Recreation is hosting the third annual Gingerbread Competition. Purchase a kit from the Rec Center, take it home, and get creative. Register at the Rec Center or online at grpr.activityreg.com by Sunday, Dec. 11. Kits should be picked up by Dec. 11. Participants will have till Dec. 15 to construct their mansion. Mansions will be on display at the Rec Center from Dec. 16 to 26, and people's choice judging will be open until Dec. 22. Full rules and details can be found at cityofgreenriver.org. 
- GRHS Theater Christmas Radio Play: This year Green River High School will present "How the Grinch Stole Christmas" for the annual Christmas radio play on Wednesday, Dec. 21 at 7 p.m. in the theater. The play features community leaders and familiar faces as cast members.
GHSC Christmas Luncheon: Golden Hour's Christmas luncheon will be served twice on Wednesday, Dec. 21. First seating is at 11:30 a.m. and second seating is at 1 p.m. Curbside pickup will be available at 11 a.m. The menu will include glazed ham, scalloped potatoes, zucchini, rolls, and pineapple-marshmallow pie. RSVP at (307) 872-3223. 
Rock Springs/Sweetwater County:
- YWCA Festival of Trees: The trees, wreaths and decor for YWCA of Sweetwater County's annual Festival of Trees have been on display at Commerce Bank in Rock Springs and the silent online auction has been open. The live auction will be Thursday, Dec. 1 at 6 p.m. at Commerce Bank, and the event will include holiday drinks and treats. The festive annual event is one of the main fundraisers for the YWCA, which provides a variety of services to local families.
- Woman's Club Holiday House: The Woman's Club of Rock Springs GFWC will hold its annual holiday house at the home of Mr. and Mrs. Madsen at 3701 Clydesdale from 4 to 8 p.m. Friday, Dec. 2 and from 10 a.m. to 2 p.m. Saturday, Dec. 3. The entry cost is $5 per person, with children under 12 free. The home will be decorated for Christmas and there will be snacks available provided by the hostess. A Christmas movie will be playing in the theater room, the Praise Team from New Hope Church will carol at the home, and there will be crafts, baked goods and raffle items. Raffle tickets are on sale now and can be purchased from a club member or by messaging the Woman's Club of Rock Springs Facebook page. Tickets are $5 each or 6 for $20. There is a special raffle of a Christmas village, with tickets being $10 each or 3 for $20. Drawing for the raffle will be at 1:30 p.m. on Saturday.
- Mayor's Tree Lighting and Lighted Parade: The Mayor's Tree Lighting ceremony and community sing-along will take place at the intersection of Elk and Grant Streets in Rock Springs Saturday, Dec. 3 beginning at 4 p.m. Free face painting will be available to the public from 4 to 5 p.m. At 4:30 p.m., The Horizon Theater will perform selections from their upcoming production of "A Christmas Carol: A New Musical," followed immediately by a community sing-along of holiday tunes. The tree lighting will then take place promptly at 5 p.m. Immediately following the tree lighting, the Rock Springs Chamber will be hosting the annual Chamber of Commerce Lighted Parade with the theme "What Christmas is All About," inspired by "A Charlie Brown Christmas."
- 4-H Little Shopper's Extravaganza: Sweetwater County 4-H invites all youth to shop at the Little Shopper's Extravaganza on Dec. 8 from 5-8 p.m. Parents can bring their children to the "shopping center" located at the Sweetwater Events Complex Main Exhibit Hall where they can do all their Christmas shopping by themselves. Items are sold below or equivalent to garage sale prices and every gift purchased is wrapped at the event.
- "A Christmas Carol": The Horizon Theater's production of "A Christmas Carol: A New Musical" will be showing at the Broadway Theater with performances at 7:30 p.m. Dec. 9, 10, 15, 16 and 17 and matinees at 2 p.m. Dec. 10 and 17. Tickets are $10 for kids and seniors and $12 for adults and are available at the door or online at broadwayrs.com. 
Horse Drawn Carriage Rides: Horse Drawn Carriage Rides around Downtown Rock Springs are hosted at Coal Train Coffee Depot every Saturday until Dec. 17 from 11 a.m. to 2 p.m. Sponsors for the rides include the City of Rock Springs, Downtown Rock Springs, Memorial Hospital of Sweetwater County, Dr. Shazi Haque.
- Santa Saturdays: Santa is available for visits and pictures at the Downtown Gazebo (at the corner of D Street and Broadway Street) every Saturday until Dec. 17 from 11 a.m. to 2 p.m. During the visit with Santa, participants can enter to win a giant stocking by sharing a photo to the Downtown Rock Springs Facebook page and using #SantaRS. The drawing will be held Dec. 19.
- "Polar Express" showing: The Christmas film "The Polar Express" will be shown at the Broadway Theater on Thursday, Dec. 22 at 6 p.m. and Friday, Dec. 23 at 2 p.m. Kids are invited to keep their PJs on for the movie. Admission is $5 and will be available at the door. Families are encouraged to arrive at least 15 minutes before the film begins to purchase tickets and find seats. Movie-themed gift bags will be given away after the showings and a special visitor will greet everyone.