Seniors celebrate new year early
David Martin
Friday night was a night of dinner and dancing for Green River's seniors.
The night before New Years Eve, the Golden Hour Senior Center hosted an early party, allowing seniors a chance ring in the new year with friends.
With a new year, people have a chance to start a New Year's resolution and the people celebrating at GHSC are no different.
One reveler, Tim LaBoria, said he plans to continue writing and seeks to get involved with the community while his mother, 91-year-old Ruth Casey, said she wants to get more organized with her book club and feel as good as she can throughout the year. Casey, who turns 92 in March, said she planned to stay home on New Years Eve.
Kathy McCormick, Golden Hour's new receptionist and cashier, said she planned to watch the ball drop in New York City at midnight EST, 10 p.m. locally, but does not have a resolution for the new year.
McCormick said she believes in being happy and living a good life one day at a time.
For the center's executive director, Sheela Schermetzler, her New Year's resolution isn't dedicated to something like dropping a few pounds or taking up a new hobby. She's dedicated to helping Green River's senior population.
"A lot of our seniors are in dire need," Schermetzler said.
One of the major cut made by the state legislature last year involved funding to programs supporting seniors.
Golden Hour has had to deal with funding reductions and has instituted a number of measures to help recoup funding, such as allowing organizations the opportunity to sponsor a lunch at the center. She hopes to work with the Wyoming Legislature to return funding to programs previously cut. She also hopes to start a Tuesday bread day to give seniors the day-old bread from local supermarkets while tying it into the Meals on Wheels program as well.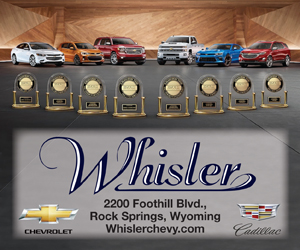 Schermetzler said she plans to apply for a grant to tire a part-time social worker to work with seniors, especially those served by the Meals on Wheels program,to help them with other problems they may face.
"I want to work harder and find more resources for seniors in need," she said.