Green River resident named Mrs. Wyoming American
Star photo
The first time Bree McMullan took the stage, she wasn't the one competing - her 18-month-old daughter Riley was. 
"I had to carry her all the time and I had to be on stage," McMullan explained. "I did all the talking for her. And that's when it really lit that torch for me, like 'no, you've got to do this for yourself.'"
When she did start competing in pageants for herself, she also started winning. This year, McMullan brought the Mrs. Wyoming American 2023 title home to Green River for the second time. Now she will have the opportunity to take that title to the National competition in August, as well as use it throughout the year to share positivity in Sweetwater County and across the state. 
Getting on stage  
While McMullan wasn't involved in pageants growing up, her mother-in-law was and was excited to continue the tradition with McMullan's daughters.
"I have to pay a lot of credit to my mother-in-law for sparking the pageant bug within my family," McMullan said. 
All three of McMullan's daughters have competed, and one of them currently holds a state title. But it was when Riley was in a national pageant as a baby, and went home as the fourth alternate, that McMullan discovered how much she also enjoyed being on the stage.
"I just felt like a million dollars that whole time," McMullan said. "I don't care where she placed. I felt like we rocked that stage and made it ours."
The very next year, McMullan decided to enter for herself. Unfortunately by that time the pandemic was in full swing. Even though her first two years of competition had unique challenges, including competing out of state and competing via Zoom, McMullan was chosen as Mrs. Wyoming American 2021.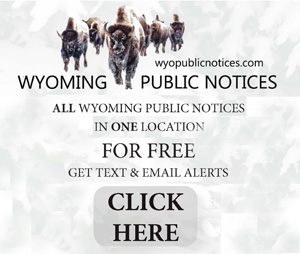 This year, competing in her third pageant, McMullan was excited to have a more normal competition and to be on stage in her own state. Previously, the Wyoming pageant was owned by Colorado, but a new director has brought it back home. 
"I'm so thankful that Wyoming is back in Wyoming again and this opportunity is here for all of Wyoming to be a part of," McMullan said. 
The pageant 
Competing as Mrs. Sweetwater County, McMullan participated in this year's Wyoming America Pageant hosted in Casper at the end of June. 
The weekend started with a pajama party with the outgoing queens where the contestants could get to know each other, exchange gifts, and ask questions. The next day was a full day of competition, with everyone going through all the events in one day. At the end, McMullan was crowned Mrs. Wyoming American for the second time. 
Joining her were Adelaide Roberts as Miss Wyoming for America Strong and Rebecca Shanks as Mrs. Wyoming America.
All three titles are branches of the Mrs. America Pageant system, which is the "most prestigious pageant system for married women," McMullan explained. 
Pageant contestants need to be 18 years old or older. Mrs. America contestants must be married and can't be separated or get a divorce during the competition. Miss for America Strong contestants can have been divorced or widowed, can have children, and can be in a relationship, but can't get married during the competition.
"We encourage all walks of women to come and join this pageant and sisterhood, giving more women the opportunity to compete, because most pageant systems don't allow for women who are married or for women who have children to compete," McMullan explained.
The Mrs. American division is the newest division in the competition, with this year being the fourth year it's been a title. It essentially acts as a runner-up to the Mrs. America title, but serves as another opportunity for a married woman to move on in the competition. Both Mrs. America and Mrs. American get the opportunity to compete at the national competition, with the chance to move forward to the Mrs. World Pageant. 
Nationals 
Having earned the title of Mrs. Wyoming American again, McMullan will get the chance to compete at the National Mrs. America Pageant in Vegas this August. 
Having been to nationals once before, McMullan describes the 10-day Vegas experience as a "marathon." With a welcome dinner, rehearsal time, a night in the Elvis Presley Suite, and the actual competition consisting of interviews, a swimsuit competition and a gown competition, the 10 days are full of exciting opportunities. 
"We do get the opportunity to perform on the Elvis Presley stage, which is a super amazing treat," McMullan said. "You could feel the life of the stage, feel that energy and environment on it. It just roars through you."
This year, McMullan is especially excited to have her pageant sisters and her family by her side as she competes in Vegas - especially since those connections are such an important part of the competition. 
Sisterhood and family 
"The Mrs. America motto is 'We are family,' and I love that because it takes a family to do this," McMullan explained. 
The sisterhood and family the pageant brings together is one of the greatest things McMullan has gained from competing. 
"You never know what your sisterhood can bring in to you to help fill up your cup," she said. "They have that same energy and drive as you. They bring out the best in you." 
Having this support and encouragement has helped McMullan gain strength and self-confidence for herself and has helped her feel like she belongs in the pageant system. 
But in addition to the family within the competition, having a pageant for married women also brings in an even stronger element of support from the families of the competitors. 
For McMullan, her family has been crucial in her pageant journey, not only in getting her on stage in the first place and supporting her through her competitions, but also being a big part of how she connected with causes she's passionate about.
A personal cause 
One of the responsibilities that comes with the Mrs. Wyoming American crown is finding causes to support that help others. 
For McMullan, the causes she shares deal with issues that hit close to home. She works with Victoria's Voice, is a Beauty for Good ambassador, and partners with the Steered Straight program. All of these organizations help address the problems of addiction, especially among young people. 
Since multiple members of her family are over a year sober from different addictions, and having seen the influence these programs had in helping them on their journeys, McMullan is proud to keep sharing these tools with others.
Last year she brought a top national speaker to Sweetwater County to speak in both school districts as part of the Steered Straight program, and this year she hopes to extend it to even more schools throughout Wyoming. 
"If it wasn't for the pageant system and getting the chance to go to Nationals, I wouldn't have known about these and been able to bring them home," McMullan said of the programs. 
Representing home 
As she continues with her competitions and the opportunities they bring to keep giving back to others, McMullan always stays grounded in her home.
"Representing Sweetwater County is just a huge accomplishment for me," she said. "We do have so much to offer here."
When Wyoming competes in the final slot during the national pageant, McMullan simply sees it as saving the best for last. And as she continues to represent the Cowboy State, she hopes to inspire others to join. 
"I'm hoping with this opportunity that I can bring more women into the pageant system, because Sweetwater County has some amazing women that should be competing," she said. "I want to be able to incorporate more women throughout the whole state of Wyoming to compete." 
McMullan encourages anyone who is interested in joining to contact wyomingamerica@gmail.com.
But while she remains the one to represent her home, McMullan also remains grateful for the encouragement of her community. 
Lampshade Studio photo
"Having the support is what makes me thrive," she said. "It made me want to try harder for them as well as myself."