Wrestlers prepare for Thoman tournament in Green River
Following competition in California and Utah, the Wolves will have a chance to wrestle at home during the annual Thoman wrestling tournament this week.
Following a hiatus due to the winter break, the Wolves took part in two competitions last week. Wrestlers who placed at state last year took part in the prestigious Doc Buchanan wrestling tournament in Clovis, California while the others participated in the Tournament of Champions in Vernal, Utah.
Head coach Josh Wisniewski said quartet attending the Doc Buchanan tournament, consisting of Connor Todd, Deylin Miller, Kale Knezovich and Thomas Dalton, gained a lot of experience. None of the four placed, though Wisniewski said Dalton was one match away from earning placement at 135 pounds. Wisniewski hopes the experience from Doc Buchanan will be spread amongst the other wrestlers in the coming weeks.
During the competition, Wisniewski said several JV wrestlers placed, while varsity wrestler Ryker Mele took eighth at 138 pounds.
"We're getting better," Wisniewski said. "I'm seeing some good things."
As the Wolves prepare for the Thoman tournament this weekend, Wisniewski said the boys are at a point where they're putting everything they've learned so far together. After traveling throughout the region for competition, Wisniewski said the team looks forward to being at home. While the Wolves will face several tough competitors, Wisniewski believes the team will do will in front of the home crowd, expecting several wrestlers to make it to Saturday's Best of the Best competition.
The tournament will utilize Green River High School, the Green River Recreation Center and Rock Springs High School and features 16 teams from Wyoming and Colorado.
Junior varsity competition starts at 2 p.m. while varsity wresting action is scheduled to start at 3:15 p.m., with the Wolves scheduled to compete in Green River High School's main gym. Varsity wrestling continues throughout the evening until 7:15 p.m., when the second round of junior varsity takes place until 8:30 p.m.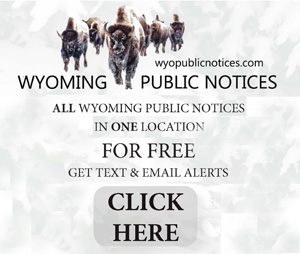 Action picks up Saturday at 10:30 a.m. for junior varsity and 11:45 a.m. for varsity, with the Best of the Best matches scheduled to start at 3 p.m. at the GRHS main gym.
Following the tournament, the Wolves are scheduled to take on Rawlins next Thursday, though that may not happen. According to Athletics Director Tony Beardsley, Rawlins was originally scheduled to compete at the Thoman tournament, but withdrew because the team is in quarantine.