Castle Rock funds cut off
The Sweetwater County Commissioners will not sign a contract with Castle Rock Hospital District to provide the district with $81,000.
During the Commissioners' meeting Tuesday morning, the Commissioners were divided on whether or not to enter into a contract with CRHD after the board raised issues with having to publish their salaries in the newspaper several months ago.
Commissioners Randy Wendling and Wally Johnson voted in favor of the contract, while Commissioners Reid West, Don Van Matre and John Kolb voted against.
Chairman West said CRHD was upset with the Commissioners because they wanted CRHD to publish their employees' salaries in the newspaper.
At the time, CRHD board members argued that Sweetwater Medics should have to publish their salaries too.
However, the Commissioners pointed out Sweetwater Medics is privately funded.
West said CRHD refused to sign the contract up until now, which he didn't understand.
Because they haven't signed the contract until now, CRHD has been operating without a signed contract.
According to the proposed contact, "Castle Rock shall provide to county a list of all its full-time positions and wages and salaries paid each position (no names of employees), to the county on or before the first Monday of March. Castle Rock acknowledges that county will publish this information in the county's official newspaper and the county's website."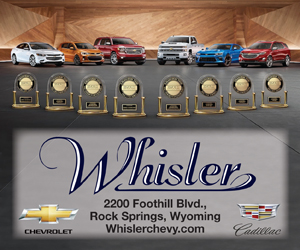 Even though CRHD sent in their monthly vouchers and their employees' salary information, the Commissioners still remembered how they were treated by CRHD board members and they didn't like it.
West asked the other Commissioners what amount would they like to fund the CRHD. Deputy attorney James Schermetzler said they have to fund CRHD for the full $81,000 because that's what the contract was written for.
"It's a couple of individuals that caused this problem," Johnson said.
He said others will suffer if the county doesn't sign the contract and give them the $81,00o and they shouldn't have to because of the actions of few.
Kolb said the Commissioners are now faced with a contract and they need to make a decision.
"I wasn't happy on how they took it to a personal level on a business decision ...," Kolb said about the CRHD board members. "I think that was certainly uncalled for."
He suggested the contract be prorated on a monthly basis to prevent a problem like this from happening again.
"I do feel we need to relook at that again," Van Matre said. "Maybe for right now we have to do what we have to do. I understand that it was the board that did that, but I'm very disappointed that there isn't a better rapport and working relationship."
"I hate to say this, but if they want to play hard ball, I don't think things are going to end well for them," Van Matre said.
He said the relationship has changed and the Commissioners might look at funding them differently in the future.
West said the Commissioners have helped them over the years to about a total of $1 million when they were in financial trouble. They also supported CRHD's bond issue and their six-cent initiative.
"The tiff over publishing positions and salaries in the paper, a transparency issue, is absolutely ridiculous," West said.
With that being said, a motion was made to approve the contract, but the motion died 3-2.